WatchDog
Features:

Computer hang-up protection
Programmed activation time in range 100 msec to 60 sec
Attaches to standart LPT port
Powered from AT or PS/2 keyboard port
Drivers for Windows 2000/XP/2003, Linux FreeBSD
Open source API

Watchdog is intended for use on servers working in the round-the-clock unattended mode. It restores an operation of the server by the hardware reset of a computer in case of the operating system hang-up.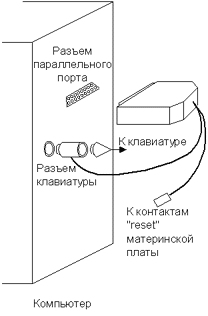 The watchdog is fitted into a standard DB-25 connector, with two additional cables. It must be connected to the LPT port of a computer, additional cables are connected to RESET contacts on the motherboard, and to the keyboard connector.
After computer powerup or cold reset, the watchdog is in a passive state and does not affect the operation of a computer. After the operating system startup, the watchdog driver will initialize it and set up the timeout value: 100 msec, 1 sec, 5 sec, 10 sec, 20 sec, 40 sec or 60 sec. During the normal system operation the watchdog software periodically signals the watchdog that the computer is alive. In a case of operating system hang up, after the timeout elapsed, the watchdog will perform a cold reset of the computer.

Currently available models are listed in Prices. Please, contact technical support if you are unsure which model to choose.

Some of the documents are in Adobe® Acrobat® Reader® format


User's Manual in Russian


User's Manual in English

Return to Supplementary or Digital Communication Equipment

Copyright © 1996-2023 Cronyx