Multiplexer E1-XL
(rack-mount model 1U)
Features:

Two E1 Interfaces
Integrating multiplexer mode with 2 data ports and E1 sub-link
ITU G.703, G.704, G.706 and G.823 compliant
Up to 2 km
CAS and CRC4 framing
Two data interfaces: Ethernet or V.35/RS-530/RS-449/RS-232
Full duplex synchronous mode
Digital, remote and line loopbacks
Integrated BER tester
Supervisory RS-232 port
SNMP Ethernet 10Base-T control port
Remote management
Dry contacts alarm interface
1U high rack-mount enclosure for 19 inch cabinet
AC or DC power
The E1-XL is a integrating multiplexor for Fractional E1 services. It can split the E1 link into several digital channels. Data from two digital interfaces with rates from 64 kbit/sec to 1984 kbit/sec are placed into specified timeslots of main E1 link. Other timeslots are passed into secondary E1 link.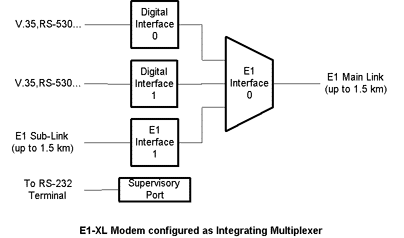 The device is provided as a stand-alone unit, as a rack-mount 19'' 1U case, or as a card for 19'' 3U Cronyx rack.
For the rack-mount 1U unit, there is a choice of Ethernet, V.35 or multi-standard digital interfaces. The multi-standard interface is switchable by adapter cable to RS-232, RS-530, RS-449 or V.35 standards. The V.35 interface is ended with the standard M34 female connector.
The E1-XL can be AC or DC powered.
The device setup and diagnostics are performed via the RS-232 supervisory port.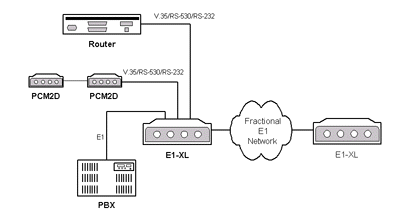 Currently available models are listed in Prices. Please, contact technical support if you are unsure which model to choose.

E1 Interfaces
Line Code
HDB3 or AMI
Line Impedance
120 Ohm (Twisted Pair)
Receive Signal Attenuation Range
from 0 to 30 dB (up to 1.5 km of 22 AWG twisted-pair cable)
Jitter Attenuator
In receive path, 120UIpp
Frame Structure
per G.704
Multiframes
CRC4, CAS
Frequency Offsets Adjustment
Controlled Frame Slip
Digital Interface
Data Rate
up to 1984 kbps (Nx64 kbps)
Clock Options Supported
TXC, RXC, ETC, ERC
Modem Control Signals
DTR, DSR, CTS, RTS, CD
Interface Ethernet
Interface
10/100Base-T
Connector Type
RJ-45 (female)
Data Transfer Rate
up to 1984 kbps (Nx64 kbps)
Mode
100 Mbps Full-duplex,
100 Mbps Half-duplex,
10 Mbps Full-duplex,
10 Mbps Half-duplex,
or Autonegotiation
Address table size
15000 MAC addresses
Maximum packet size
1600 bytes, including MAC header
Protocols
Transparent or Cisco-HDLC bridging IEEE protocol, automatically selected
Quality of Service
8 priority levels
Alarm Interface
Connector Type
9 pin DB9 female
Relay Contact Current
Up to 600 mA
Relay Contact Voltage
Up to 110 VDC or 125 VAC
Control interface
Connector Type
RS-232 DCE, DB-9 (female)
Protocol
Asynchronous, 9600 bit/sec, 8 bit/symbol, 1 stop bit, no parity
Modem Control Signals
DTR, DSR, CTS, RTS, CD
Diagnoctic modes
Loopbacks
Local, Remote, Digital
BER Tester
Built-in
Control
By switches on front panel or via control port RS-232
Physical
Dimensions
444 mm x 262 mm x 44 mm
Weight
3400 g
Power source
AC power source
176-264 V, 50 Hz
DC power source
36-72 V
Power
20 VA Max
Environment
Temperature
0° - 50°С
Humidity
0 to 80 %, non-condensing
Some of the documents are in Adobe® Acrobat® Reader® format


User's Manual in Russian


MIB-files for SNMP-management


Справочник по интерфейсным кабелям Cronyx.

Return to Digital Service Access Devices or Digital Communication Equipment

Copyright © 1996-2022 Cronyx