Modem-converter E1-L/M
(Mini box)



Features:

ITU-T G.703, G.704, G.706 and G.823 compliant
Up to 2 km
CAS and CRC4 multiframing
Ethernet or V.35/RS-530/RS-449/RS-232/X.21 user data interface
Selectable data rates
Digital port loopback, local and remote link loopbacks
Integrated BER tester
Supervisory (console) RS-232 port
48/60 VDC power
The E1-L/M is a fractional E1 access device, for transmitting digital data over framed (ITU-T G.704) E1 channels. Digital data port rates are selectable for any multiple of 64 kbps up to 1984 kbps. User data occupies only the required number of E1 frame timeslots reducing billing to only bandwidth used. E1-L/M also supports unframed E1 channels.
Model E1-L/M is stand-alone (in the metal case of type Mini).
The E1-L/M product is available in three versions of digital interface:
E1-L/M-ETV - Ethernet 10/100Base-T interface;
E1-L/M-V - V.35 interface;
E1-L/M-M - multistandard digital interface (V.35/RS-530/RS-449/RS-232/X.21).
Devices DC powered 36 to 72 VDC.
Possible AC Power Source 176 to 264 VAC from external Power adapter Cronyx AC-DC-48)
Device operation may be controlled via console port (RS-232 port for supervisory terminal connection).
The E1-L/M devices may be configured by DIP switches or from console.
Link testing and loopback control may be performed from console.
When in framed mode of operation, the remote login feature for access the remote E1-L/M device's console is available for E1-L/M devices.
So-called monitoring channel is used (in framed mode only) for accessing the remote device status information and for remote login operation. The Sa4 bit of the timeslot 0 of the E1 frame is used for the monitoring channel operation (according to the ITU-T G.704 Recommendation). In addition, any bit of any timeslot may be assigned for the monitoring channel operation for E1-L/M devices.
The state of the E1-L/M devices may be monitored by SNMP protocol via IP network. The desired Sa bit for monitoring channel operation may be assigned by the SNMP for E1-L/M devices.
Application: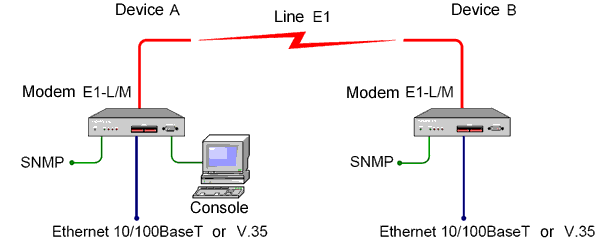 The typical scheme of application E1-L/M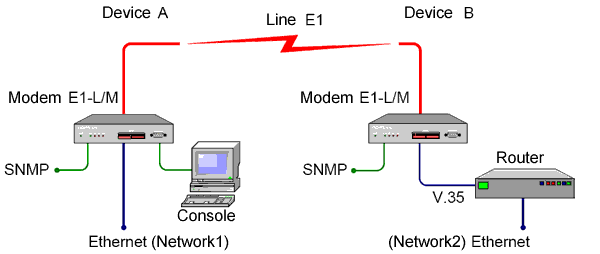 The scheme of application of modem E1-L/M together with a router
Order codes:


Currently available models are listed in Prices. Please, contact technical support if you are unsure which model to choose.

E1 Interface
Connector Type
RJ-48 (female 8 pin)
Line Code
HDB3 or AMI
Frame Structure
In acc. to ITU-T G.704, Multiframing: CRC4, CAS. Unframed mode available
Frequency Offsets Adjustment
Controlled slip buffers in receive path
Line Impedance
120 Ohm (twisted pair)
Receive Signal Attenuation Range
from 0 to -43 dB
Jitter Attenuator
On receive
Digital Interface: V.35/RS-530/RS-449/RS-232/X.21
Data Rate
up to 1984 kbps (framed Nx64 kbps),
or up to 2048 kbps (unframed), for RS-232 up to 128kbps
Clock Signals Supported
TXC, RXC, ETC, ERC
Modem Control Signals
DTR, DSR, CTS, RTS, CD
Connector Type (multistandard interface)
HDB44 (female)
Connector Type (V.35 interface)
M-34 (female)
Ethernet Interface
Interface Type
IEEE 802.3 10BASE-T or 100BASE-T (100BASE-TX)
Connector Type
RJ-45 (female)
Data Transfer Rate
up to 1984 kbps (framed Nx64 kbps),
or up to 2048 kbps (unframed)
Mode
100 Mbps full duplex,
100 Mbps half duplex,
10 Mbps full duplex,
10 Mbps half duplex,
or autonegotiation
Address Table Size
15000 MAC addresses
Maximum Packet Size
1600 bytes, including MAC header
VLAN Support
In acc. to IEEE 802.1q
Protocols
Transparent or Cisco-HDLC bridging IEEE protocol, selected automatically
Console Port
Serial Protocol
Asynchronous 9600 bps, 8 bits/character, 1 stop bit, no parity
Modem Control Signals
DTR, DSR, CTS, RTS, CD
Interface Type
RS-232 DCE
Connector Type
DB9 (female), 9 pins
SNMP Interface (option «-SNMP»)
Interface Type
Ethernet 10Base-T
Connector Type
RJ-45 (female)
Diagnostics
Loopbacks
Local and remote E1 link loops, digital port loop
BER Tester
Integrated
Control
from Console Port or Remote Login; SNMP-based Management(«-SNMP»)
Physical
Dimensions
180 mm x 156 mm x 36 mm
Weight
0,7 kg
Power Source
DC Power Source
36 to 72 VDC
(possible AC Power Source 176 to 264 VAC from Cronyx AC-DC-48)
Power Consumption
20 VA Max
Environment
Temperature
0 to +50 °С
Temperature of storing
-40 to +85 °С
Relative Humidity
0 to 80 %, non-condensing
Some of the documents are in Adobe® Acrobat® Reader® format


E1-L/M. User's Manual in Russian


E1-L/M-ETV. User's Manual in Russian


MIB files for SNMP management


Cronyx interface cables guide

Return to G.703 Interface Converters or Digital Communication Equipment

Copyright © 1996-2023 Cronyx